Category Archives:
Lawn Aeration & Seeding
Among a host of other long-awaited chores, many homeowners are eager to get out onto their lawns once the snow has melted and plant grass in the spring. While it may be difficult to contain the urge to rush out to the local home improvement store and spend hundreds of dollars in a state of euphoria brought on by the smell of fresh cut grass, there are a few things to consider first before planting grass in the spring.
How to decide?
The first thing to consider before planting grass in the spring is whether or not the lawn needs to be seeded at all. In the early months of spring the soil is often super saturated from the snow melt. A lot of the plants are overly succulent with no rigidity and the color is poor because a lot of plants are still dormant. Keep in mind that the lawn has just started to wake up and isn't looking its best. I mean, would you want anyone making any decisions regarding what to do about your overall appeal right after you rolled out of bed? Just try not to be overly disappointed with the lawn's appearance at first sight and know that it looks as bad as it is going to early in spring before the soil temperatures become warm enough to trigger spring growth before you decide to plant grass in the spring.
How should one determine if you should plant grass in the spring? Spring seeding should be planned if there any obvious areas of exposed soil. These areas can represent a large percentage of the property, or be as small as a baseball or basketball.  Even small areas of exposed soil where there is little to no grass present can be an eyesore, and establishing new grass in these areas before they become worse through erosion is important.
When to plant grass in the spring
Once the decision is made to plant grass in the spring, the work should be done as early as the weather permits. The best time to plant grass in the spring is when the snow has melted and it appears that there will be no future snow accumulation. This is usually between late March and early April. The timing is important because it is essential that the new seed has as many weeks as possible to establish before the summer arrives. One of the biggest disadvantages to seeding any areas in the spring is that a large percentage of the new plants do not develop a root system mature enough to survive the stress of summer. Therefore, it is best only to address the sections of the lawn that absolutely need it in spring.
After you seed
After the seeding has taken place it is important to feed the young plants. If you have a lawn care service in place they should be notified. Explain to them when and where on the property you have planted grass in the spring. The service provider can then be sure to avoid the application of any herbicides to the areas, and to bring out starter fertilizer with the next scheduled treatment to apply on the new grass. Keeping new grass properly fed with starter fertilizer high in phosphorus is critical in trying to ensure that the young plants establish in time for summer. Skipping the Early Spring application of fertilizer for fear that it may damage the turf in some way is a huge mistake often made by homeowners. Like any other newborn, young seedlings need to feed immediately to grow, and like infants they require a special diet different than that of mature adults.
With the new seed planted and fertilized, it becomes about monitoring the seedlings as they come in. The areas need to be kept moist always. One of the advantages of planting grass in the spring is that there is frequent rainfall, so keeping seeded areas moist is not very difficult. Light, frequent watering is best. New plants do not have roots, so deep watering does not serve much of a purpose. Traffic of the areas should be kept to a bare minimum. Use stakes and some string or caution tape to keep anyone from entering the area unnecessarily. The areas will need to be mowed eventually, but that should not happen until the new plants reach a height of about 4" or so.
If these instructions are followed to the letter, the new grass will have been given the best chance to germinate and establish. However, there are additional issues that come with planting grass in the spring that may adversely affect the result despite the best efforts of the homeowner.
Summer Heat
First, as mentioned already the trick with planting grass in the spring is to get it to establish before the summer arrives. Sometimes though, summer arrives earlier than expected. It is not unheard of for there to be heat waves as early as May, and it won't take much to damage the young plants. Just a single week of temperatures more than eighty degrees may be enough to cause injury from which the new grass will not be able to recover.
Broadleaf Weeds
Second, the race for the new grass to establish is not just against the heat, but also the broadleaf weed growth. In areas of the lawn where there is less grass established there is more soil exposed to direct sunlight. The temperature increase in the soil, along with the lack of plant competition, creates the perfect environment for excessive broadleaf weed growth. If broadleaf weeds establish in these areas before the new grass does, then the results may be less than desirable.
Crabgrass
The last factor to consider before deciding to plant grass in the spring is crabgrass. The most effective way to control crabgrass is preventatively with treatments that are applied in the early spring. Any areas seeded cannot be receive this treatment because it prevents the new grass from being able to establish. What this means is that any areas seeded will most likely have to contend with a good deal of crabgrass growth. And because crabgrass growth doesn't really occur until June, even new seed that looks amazing to that point can suddenly become lackluster once the crabgrass populates the area. The crabgrass can be treated at that point, but then the homeowner is left with an area filled with dead crabgrass plants until the lawn can be reseeded at summer's end.
Conclusion
While spring is the time for new growth, all the factors mentioned should be carefully considered before planting grass in the spring. In general, smaller touch up seeding is a non-issue and should be taken care of without much thought. However, before doing any extensive plantings of grass in the spring, it may be best to contact a lawn care professional and weigh the options carefully.
For more information about preparing your lawn and landscape for spring, check out our blog that takes an in-depth look into preparing your property for the spring. If you are in our service area and have any questions about planting grass in the spring, please don't hesitate to call us at 908-281-7888.
Why should I Aerate my lawn?
The simple answer is core aeration reduces soil compaction, thatch build up, and promotes healthy root growth.  Soil compaction and heavy thatch build up can greatly reduce the flow of water and nutrients into the soil.  This results in reduced uptake of water and nutrients, lower oxygen levels in the soil and poor root growth.  During times of stress, like the hot and dry summer we just had, plants with a poor root system will be less tolerant to stress and more susceptible to disease.  Core aeration is an environmentally sensitive and organic approach to having a healthier lawn.
Why is my soil compacted?
Soil compaction occurs over time through everyday use such as mowing, foot traffic, and recreational use.  Even without traffic, natural processes such as rainfall and soil settlement will cause compaction.  The impacts from compaction are more evident in parts of your lawn that are frequently used, such as near a play set or in front of an access gate for people with fenced in yards.  In these areas, you will notice thinning and the development of bare patches over time as a result of soil compaction from consistent use.
How does core aeration work?
Core aeration works by mechanically removing plugs of soil from the lawn.  This will immediately improve water and nutrient flow deeper into the soil, as well as promote root growth for a healthier, more stress tolerant plant.  Other benefits include increased oxygen levels to the soil, improved soil pore space, reduction in thatch build up, and enhanced response to fertilizers.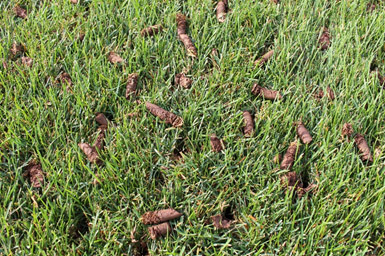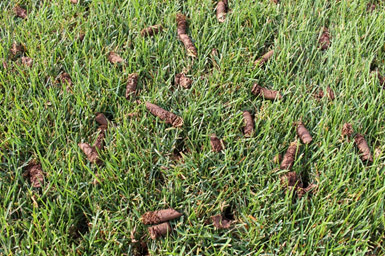 The photo above was taken after aerating a customer's lawn and shows the plugs that were removed.  It may look unsightly at first, but the plugs will continue to break down over the next few weeks and be less noticeable over time.  These plugs play two major roles in the breakdown of thatch layers.  In addition to the mechanical removal of thatch, microorganisms located within the plugs will re-enter the turf from the top and help the decomposition of remaining thatch layers.
When should I aerate my lawn?
In central New Jersey and eastern Pennsylvania, we recommend aerating from late summer through the fall as the turf will have less stress caused by heat and drought.  In addition, at this time the grass plants will be growing and developing their roots while also having less pressure from weeds.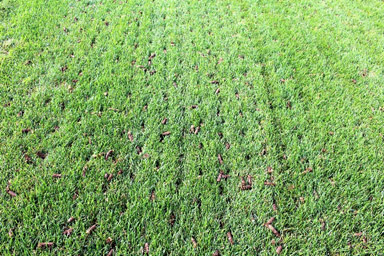 Right after the core aeration is an excellent time to seed, assuming the temperatures have not gotten too cold.  The open areas created by the core aeration are great sites for seed germination.  For seeding, you would want to coordinate with us in advance so that your core aeration is completed during August or September.
In summary, regular aeration is a necessary process for having a healthy lawn.  For those of you that golf, you may be familiar with the process as golf courses aerate multiple times in the same year.  Our recommendation to homeowners would be to aerate at least every other year, however an annual aeration would be ideal.
Please feel free to contact Fairway Green if you have any questions related to core aeration or your lawn in general.