Deer Repellent Program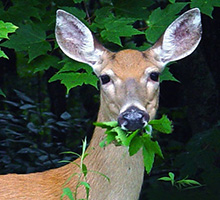 Deer damage to landscape plants has become a costly nuisance. Loss of habitat and their natural food supply due to construction plays a large role in this problem. Minimizing impacts from deer will not only improve the look of your landscaping, but it can also help protect the value of your home.  A well-maintained lawn and landscape can add up to 15% on the value of your property. Our deer repellent program is designed to help reduce the amount of deer feeding on your landscape plants. We offer a program of monthly applications, the number of applications we recommend is based on the actual plant material in your landscape. A single treatment will reduce feeding for 30 to 45 days, depending on weather conditions. Our treatments are not a guarantee against feeding or damage.  However, if deer feed on treated plants within 30 days of the last application, Fairway Green, Inc. will retreat those plants at no cost to you.
How does our deer repellent program work?
Deer are creatures of habit. They tend to follow the same path daily. Our deer repellent treatments are designed to "condition" or "train" the deer not to feed on the treated plants. We apply a spray to the scheduled plants on your property that deters them by both taste and smell. In some cases it may leave a film on the surface of the leaves. Our applications DO NOT prevent the deer from coming onto your property.
How often do I need a treatment?
Since our applications are designed to 'condition' the deer to not feed on your plants, frequent applications are recommended. We offer monthly deer repellent treatments, as well as a winter application that lasts up to five months.  Together we can talk about what would work best for your landscape.
Winter DeerPro Application
We also offer a winter deer repellent that lasts up to five months. Our winter deer repellent, called DeerPro, can be applied anytime from October to February. It is applied with a low volume backpack sprayer directly onto plants that deer are known to feed on. One application in October will give you protection until the early spring.
DeerPro repellent leaves a visible residue on the plant for the duration of the winter. When the material is first applied, it appears whitish-green in color and pales as it dries. When the weather begins to warm up in the spring and the plant awakens from its dormant state, the material will start to fade away. Here is a link to a video that shows DeerPro being applied and how it leaves a whitish film on plant material.
What plants are treated?
In our deer repellent program, we treat specific plants that we know deer normally feed on, as well as any Annuals and Perennials present at the time of application. If there is a specific plant type that is problematic, please discuss with our salesperson prior to commencement of service. It is also important for you to communicate with us at the time of estimate, the amount and location of any Annuals and Perennials prior to the start of service so we are aware of location and quantity since they may not be present at the time of estimate.
Our Guarantee: If deer do feed on treated plants within 30 days of the last application, Fairway Green, Inc. will retreat these plants at no cost to you.