Planting Best Practices
Adding new plants to your landscape is a great way to make your property pop. Below we discuss where and how to properly plant your landscape to keep it healthy and give it the best chance to survive for years to come. While these are best practices and recommendations, please note that each property is different, and the general recommendation may not hold true in every instance.
We understand that not everyone's favorite activity is tending to their outdoor landscapes, and if that is the case we recommend working with a reputable landscaper that provides accurate recommendations and maintenance. If you prefer to do it yourself, the following can help you plant and maintain your landscape.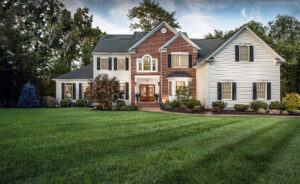 Planning your landscape
Survey your land and plan where you would like the landscape beds to be. Most beds are around the foundation of the house and areas around a patio, edges of driveways and possibly in the lawn as well. Check to see if water sits in the areas you want to build your landscape beds or add your plants to existing beds. If it does, most plants do not do well in waterlogged soil because they need good drainage to thrive.
Check the soil. Is it clay or shale based? Hard and/or compact? If the answers are yes, then we recommend taking out about 12 to 18 inches of the hard/compact, clay/shale soil and adding fresh organic-rich soil.
If you are making a raised landscape bed with hard stone or Belgian Block, build the landscape bed and then fill it in with 12 to 18 inches of fresh organic-rich soil. Make sure to slope beds away from the house so water doesn't sit around the plants and suffocate them or run backwards onto the foundation of the house. If water is going to be an issue you may have to install a sub-surface drain pipe. This should be done by a professional.
Selecting Landscape Plants
When purchasing plants you want to install in your landscape, we recommend using a reputable nursery. Most plants are sold either in pots, out of pots with the root ball wrapped in burlap, or bare-rooted. If the plants are not going into the ground right away, make sure they remain in the shade and watered until they are planted. Make your plant selections based on the location that you want to plant them in. Certain plants do well in full sun and certain plants do well in shade and installing plants in the wrong spots affects their long-term health.
Research the plants you want to install before the installation, because once installed into the soil most plants go through "transplant shock". Transplant shock refers to the stress a plant undergoes when transplanted to a new location. Failure to thrive can come from lack of water or failure for the plant to root well. This can lead to further injury of the plant from external factors like insects, disease, and weather. When multiple stresses happen simultaneously, the plant may no longer be able to function properly. The goal is to transplant the plant with as little stress as possible and digging them back up after they have been planted adds more stress to an already stressed plant.
Installing the new plants
When planting, make sure the holes are big enough to accommodate the roots and/or root ball. The hole should be twice as wide as the root ball and make sure to dig the hole so that the root ball comes close or 1 to 2 inches above the soil surface. If the root ball is wrapped in burlap, remove any wires, cord or string and peel back the top 1/3 of the burlap off the root ball. This helps the roots spread and grow unimpeded by the burlap. Once the plant is in the soil, wet down the roots and then fill soil in around them. Each plant should be carefully researched to ensure proper planting depth, spacing and how tolerant they are to full sun, full shade, both or neither.
You may need to stake trees less than 4 feet tall with a trunk diameter of 1 inch or less. Place a guide wire around the trunk and then secured to a wooden stake on either side. This helps hold the tree upright as the roots develop and secure into the soil. Be sure not to leave the wire on too long as the tree eventually grows, and the wire/wrap grows into the tree choking it off and blocking the nutrient flow inside. If the wire/wrap must stay on for a longer stretch of time, it is best to move the wire in different locations up and down the trunk every six months or so.
You may need to wrap the trunk of the tree for transport from the nursery to its destination. This helps protect the trunk from injury and should be removed prior to being installed or right after installation. Wraps do not need to stay on the trunk once planted.
Once all the plantings are done, adding mulch annually to the landscape beds is a good idea. Mulch not only helps hold in moisture but also to reduce weed growth. As the mulch breaks down over time it converts to healthy nutrients that go back into the soil for the trees and shrubs to use.
Watering is very important for the newly planted trees and shrubs. Water new plants immediately after they are installed. This helps settle the soil and aide in removing air pockets, so the roots do not dry out. The roots should be kept moist but not too moist as that can cause suffocation and rot. The amount of water and frequency should be based on the type of plants, soil and site conditions. For hose watering, lay the hose down by the trunks and let the water trickle out. Some people install a "drip system" and have it tied to their already established irrigation systems or attach it to a spigot that's on your house.
Popular New Jersey Plants
What plants are popular for our area and thrive under the various factors like soil type, and temperature? If you are adding plants to your landscape and need some ideas, check out some popular landscape plants that might be suitable for your new landscape.
Conclusion
Once the plants are installed and have a chance to develop firm roots, it is a good idea to fertilize. Fairway Green Inc. offers a tree and shrub fertilizing program as well as a soil conditioner. This helps to establish and aide in root growth for the new plantings. If you are looking to install new plants in your landscape and have any questions, please give our office a call and we would be happy to help. If you are in our service area, request a free estimate for our Tree and Shrub services.