What is the Right Grass Mowing Height?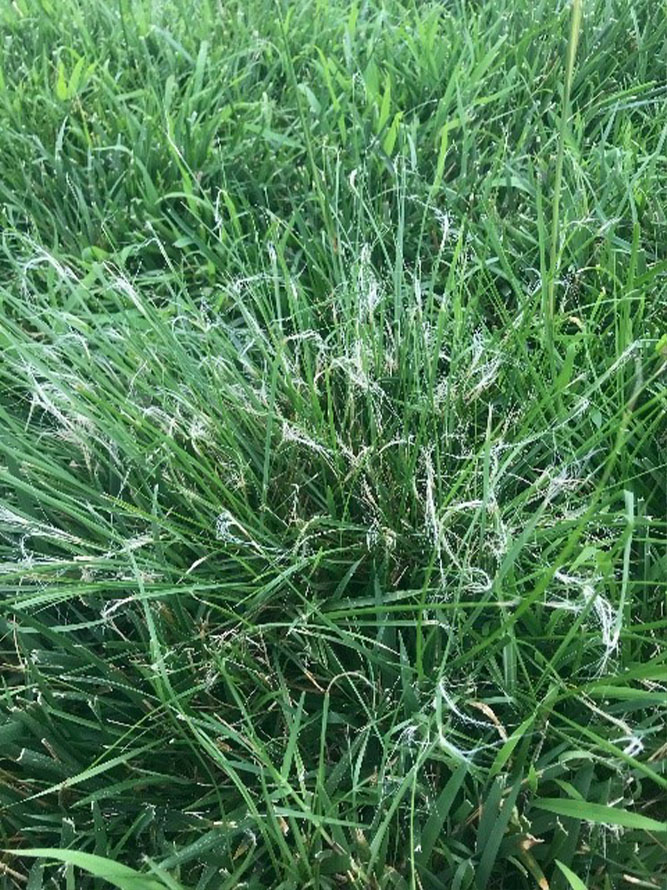 Here in New Jersey, summer time has arrived; and now is the time to enjoy your outdoor living space. There are many ways to make your outdoor property look great this summer, including your lawn. Maintaining a lawn and landscape takes a lot of work and effort, but there are few cultural practices that are important to keep your lawn looking great throughout the summer.
To start, here in New Jersey we deal primarily with northern turf grass species. This includes Rye grass, Blue grass, Tall Fescue, Fine Fescues and Chewing Fescue turf varieties. Our below recommendations to follow are averages that can be used by a homeowner to cover norther turf grass species.
One of the very first cultural practices is proper mowing. It may seem like an easy task, just take your mower out of the shed, and go to town on your lawn. There's a little bit more to it than that, like knowing the right grass mowing height. Below we will go through several mowing best practices.
Grass Mowing Height
Proper grass mowing height and proper frequency is essential to the health of your lawn. The best grass mowing height in our area is about 3 – 3 ½ inches in length. When mowing the lawn, mow off only 1/3 of the grass plant at a time. We recommend frequency of mowing should depend on how tall the grass is, and not necessarily following a calendar schedule. For example, if a lawn is being kept at 3 inches in height, it should be mowed when the grass reaches 4 ½ inches, not every other Wednesday. By removing too much of the grass blade at one time, it can weaken the plant which in turn will reduce its ability to withstand other environmental issues such as disease, surface feeding insects and even invasion of broadleaf weeds.
Also, be very careful not to cut the lawn too short or weedwack the edges too close. This is commonly referred to as scalping. Scalping is when too much of the grass blade is mowed off at one time and the stem and crown of the plants are left exposed. Scalping a lawn whether it is from mowing too short or uneven ground can cause injury to the plant. Raising the mower blades higher will help reduce this problem and watering properly helps aid in recovery of scalped areas. Sometimes seeding is needed to repair permanently damaged scalped areas.
When finding the best grass mowing height, it is best to keep the grass tall. Keeping it tall will help shade the soil under the turf canopy and keep the soil cooler. This will help to reduce the number of weeds that grow.
Mowing Blades
You may have already been mowing this season but, make sure that you have the mower blades sharpened regularly and you also perform regular maintenance on your mower like changing the oil and spark plugs regularly. Dull mower blades can tear, bruise and shred the grass blade causing injury to the turf. It can weaken the grass plant, and an open wound on grass blades are excellent spots for disease.
Other Best Practices
We also recommend not mowing your lawn when the grass is wet. Dew or any type of excessive moisture on the grass blades is an excellent way to spread lawn diseases. Also, avoid mowing midday in the full heat of the day because it can place extra stress on the plant. Mow in the cool of the morning after the dew has evaporated, or in the evening.
When mowing the lawn also try to change up the direction you typically mow. Mowing the lawn in same direction every time will cause the grass to lean that way. Mowing in different directions each time you cut the lawn will help the grass grow more upright.
Do not bag your grass clippings because leaving the clippings behind is beneficial for the lawn. This is a process called "grass-cycling". The benefits of this process are that it puts moisture and nutrients back into the lawn. Contrary to popular belief it does not contribute to thatch build up. Sometimes bagging or removing clippings is unavoidable. If the clippings are too plentiful or too long and clump up, those should be removed. If left in clumps the grass underneath can suffocate and die off.
Conclusion
By following our best practices, like proper grass mowing height, you can reduce various problems in your lawn. Maintaining a lawn and landscape can take a lot of effort and a great amount of knowledge. If you have any questions regarding best mowing practices, please request an estimate or give our office a call at 908-281-7888.